MSP tips for SMB – Enterprise backup on budget for your organization
Some may think when selecting a Managed Services Provider MSP, that we have access to some magic secrete sauce programs, or develop things in house to help secure or backup or manage your systems.
We use the same software available to most business owners! Keep in mind I am in no way shape or form getting paid by any of these companies or services that I talk about below, so I just want to make it clear that this is strictly to help out businesses save money utilizing the tools that we as MSP use.
The reality is we use a combination of software that is available to most just like its available to MSPs. What separates these software from consumer level programs like Carbonite or your regular consumer antivirus is the ability it gives us the MSP to view multiple clients statuses from a single pain of glass aka single online portal. We can check and see which of our clients backups completed successfully, which failed, what security warning a machine is experiencing for which client. These tools are often cheaper than consumer level software because its designed to work at scale. Meaning we as MSP aren't paying $60/computer per year of AntiVirus or security software. Instead we are paying less than half of that but we have hundredths if not thousands of machines we manage so the software vendors understand that at a few dollars per machine they are still making money.
What I am trying to say is that the tools that most MSP use are available to you as a business owner. You can view your own backups, view security alerts and manage your own systems if that is what you chose to do. You can checkout this article on how to calculate the costs of doing this yourself to make that right decision.
In this article we will demystify backups!
Let's jump in, and set a pretend environment, in this example I will assume your business has 5-20 computers, you run software on a local server and need to backup everything to cloud and locally attached network drive. The problem with most cloud backup solutions is they upcharge you on their cloud storage. They use AWS or Azure or Google Cloud and then upcharge for the storage and wrap it into a nice product like Acronis Backup for example where you pay a set fee. Its more expensive but comes wrapped into a nice package.
AWS, Azure and Google charge per use as well, so for 1TB of storage, the rough pricing can be seen below: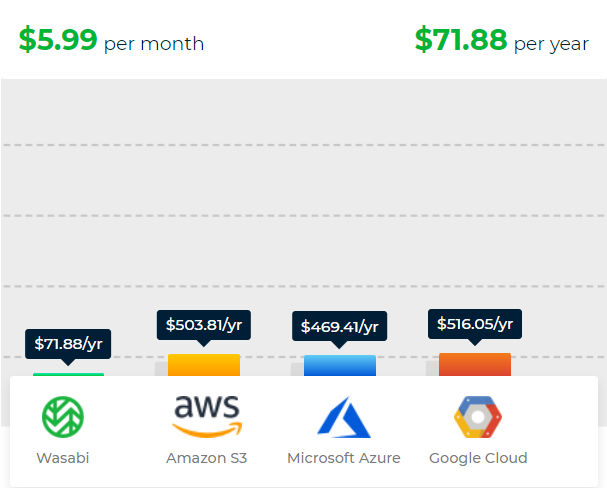 Wow, you might be wonder what the hell is Wasabi and why is it soo cheap?
Well it's actually a huge cloud provider and offers cloud storage service very comparable to the other 3 players but fraction of the price. A lot of MSPs use them to backup their client data and you should as well for your business! You can create an account here:
Wasabi Cloud Storage Pricing vs. S3 vs. Azure vs. Google Cloud
It's free to sign up
Once you login click Buckets > Create a bucket > Name it, select region and click Next. You don't have to select any additional options here, just click Next and Finish.
Click on Access keys and click Create New Access. This will allow the integration of other programs into the wasabi API using this key. We will need this later to configure out software.
Software for backing up your systems
Now that we have established our cloud storage lets move to the actual program that will backup your machines. I am a big fan of Comet Backup. Its easy to use and integrates really well with Wasabi.
You can check it out here: https://cometbackup.com/pricing
Here you can either run a cloud hosted server which I recommend or hosting one yourself. Depending on your tech knowledge self hosted is a less expensive option.
In this example ill use the Comet-Hosted Server. Its hosted on AWS, so once you create an account on Cometbackup and login to the console, click Add Server select Comet-Hosted Cloud Server
Here you will be presented with Server information screen: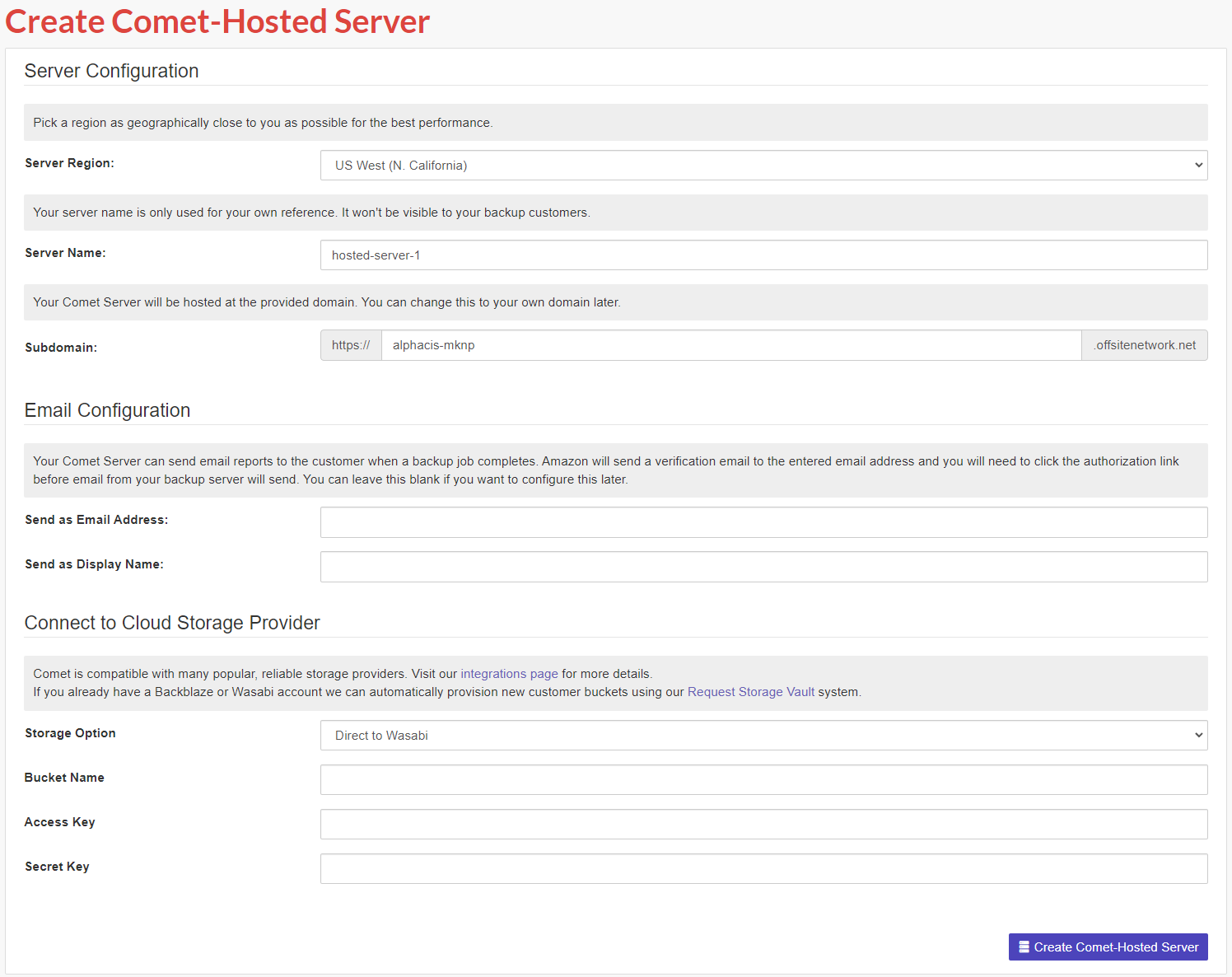 its pretty simple just fill in the server name you like, your email address and select storage option Direct to Wasabi
Type in the name of the bucket you created earlier in Wasabi and the access key that you generated in Wasabi to integrate into its API.
Click Create Comet Hosted Server
Click My Servers and you will see the option to login. Login using the password created for the server.
Follow the Setup Wizard its easy and walks you step by step.
Click users and create a user, click on storage vaults and add the Wasabi Storage you created earlier. Click Save
Once completed click Servers > Download Client Software > Select Operating system and download and run on the machine or server you wish to backup. Extract the .zip and run the installer.
Select what data you wish to backup and schedule how often you want it backed up.
Done! You are now backing up your systems the way an MSP would do it and saving money doing it.
Now be sure to check and test those backups periodically because no matter how good the software is, if you are not sure if your backup is good, it's pretty much pointless. If you have questions or need help, feel free to reach out to AlphaCIS for advice. If you need help managing your backup and running tests we are always glad to help with this as well 🙂
---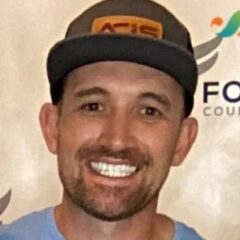 I have worked in the IT industry for 15+ years. During this time I have consulted clients in accounting and finance, manufacturing, automotive and boating, retail and everything in between. My background is in Networking and Cybersecurity
All author posts